Minsk Official Resented Contemplative Comment On VKontakte
17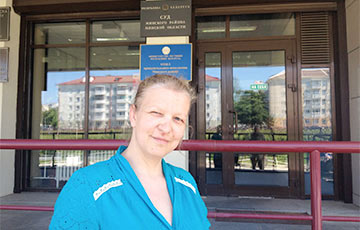 A housing and public utilities official brought legal proceedings against a saleswoman for "personal insult" in her comment against forest destruction in Baravliany.
Deputy director general of housing and communal services of the Minsk region Valery Khakhlou brought legal proceedings against one of the Baravliany forest protectors Elena Maksimava for "insulting him" in VKontakte social network. The woman allegedly "registered indecently her dissatisfaction" with Baravliany forest destruction under a photograph of a group of people.
The trial began on 2 June.
"She was not present at the protest rally against the felling of trees, but she was summoned to the police station and was told that insulting words regarding Khakhlou had been sent to the VKontakte group from her mobile phone," – head of the association Legal Assistance to Population Aleh Volchek told Radio Liberty.
The human rights activist helped the woman to defend in court, but was not admitted as her lawyer in violation of Maksimava's constitutional right to counsel. Maksimava filed a request to hire a lawyer, the next hearing is to be held on 6 June.
"Having studied the materials, we came to the conclusion that the inspection had been carried out insufficiently, – Volchek continues. – There were no inquiries about who had left the message, the phone had not been checked over. It was surprising, that the protocol did not specify any of the offensive words, which had been addressed to Khakhlou."
The commented photograph is a long shot one, with a lot of people. The comment, that is now deleted, did not contain any personal appeal to Khakhlou and expressed general dissatisfaction. The court refused to conduct a thorough inspection of the incident.
This is not the first Belarusian trial for insulting officials on the Internet. In April, 80-year-old Aliaksandr Lapitski was convicted of libeling Lukashenka and other government officials via the Internet. The man was sent for compulsory treatment.