INTERVIEW. Leanid Sudalenka: It's Cooler To Be Human Rights Defender Than Space Pilot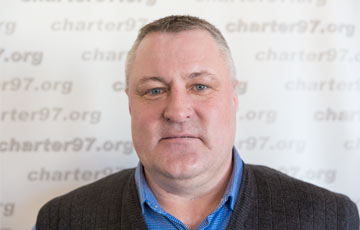 It is important to live in harmony with your conscience.
The website Сharter97.org continues the series of interviews with the "iron people of Belarus". Today, we talked with professional lawyer, renown legal inspector of the independent trade union of the radio-electronic industry workers (REP) in the Homel region, laureate of the Charter'97 annual award in the nomination "For personal courage", and the father of four sons Leanid Sudalenka.
- Leanid, you have become one of the most famous human rights defenders in Belarus. However, unfortunately, we don't know much about you. Please tell us a little more about yourself: where were you born, where did you study, work?
- I come from the Homel region. After graduating from the law faculty of the Homel University named after Francysk Skaryna, I worked as a business lawyer in various organizations. My last job was at the Homel administration of Beltransgaz. To date, this enterprise is called Gazprom Transgaz Belarus. I headed the legal service there.
- How come you decided to change the career field and become a human rights defender?
- You know, I was always interested in social and political life. Working in Beltransgaz, in 2006 I signed up for the team of Milinkevich, who at that time was an independent presidential candidate. Then the management, with whom I had good relations, began to persuade me not to get engaged in politics. Nevertheless, I made my move.
It is clear that this information data laid on somebody's table in Minsk. I was offered to quit my job. I said that if I just left, my underage sons would not understand me. I want to say that at that time I had a good social package, wages several times higher than the national average, and in about a year I was to get an apartment from the enterprise. In general, I lost not only a good job, but also an apartment on favorable, preferential terms.
Anyway, in the same year 2006 my labor contract was not renewed. It is well known how the "presidential election" took place then. Since that time, thanks to Henadz Fiadynich (Chairman of the independent trade union REP - Charter97.org), who hired me to work in the independent trade union of the radio electronic industry workers, I have been working for 12 years as a legal labor inspector in the Homel region. This is an official entry in my labor record book.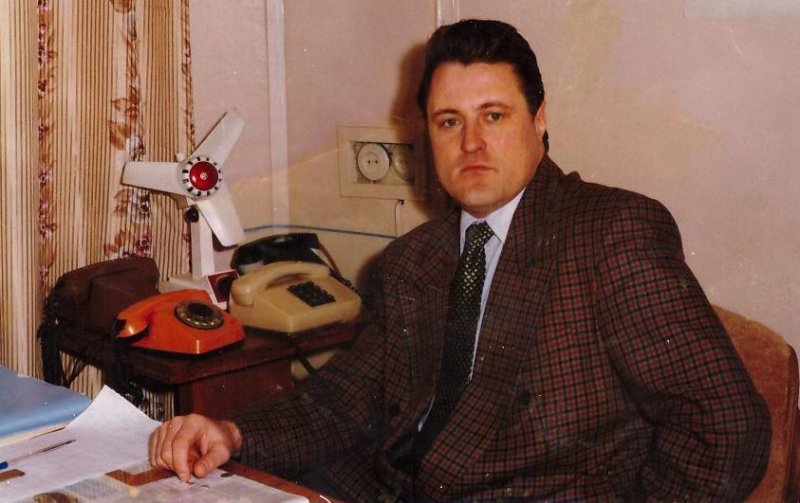 - What are your duties as a labor inspector?
- I defend social and economic rights of the trade union members. The people come, complain. I'd like to note that, in the current system of the Belarusian justice, it is often possible to defend the people's interests. As if there's no politics involved, judges make their decisions in correspondence with the law, more or less. Thus, if there are no interests of the state, or politics, the courts try to pursue the interests of the law.
Besides, I would like to note that in 99% cases Charter97.org is the first media which actually writes about us, our victories, and not only in the Homel region, but about the REP trade union in general. Thank you for this.
You know, I'm proud that we succeed in defending the rights of the workers. I am a legal inspector, I work in courts as a lawyer. They admit me to the trials, but only in the interests of the representatives of the REP trade union related to social and economic issues. If, however, our member is detained at some peaceful protest action and faces trial, I will not be admitted there. I am in charge of exclusively civil cases in the framework of protection of the labor and social-economic rights.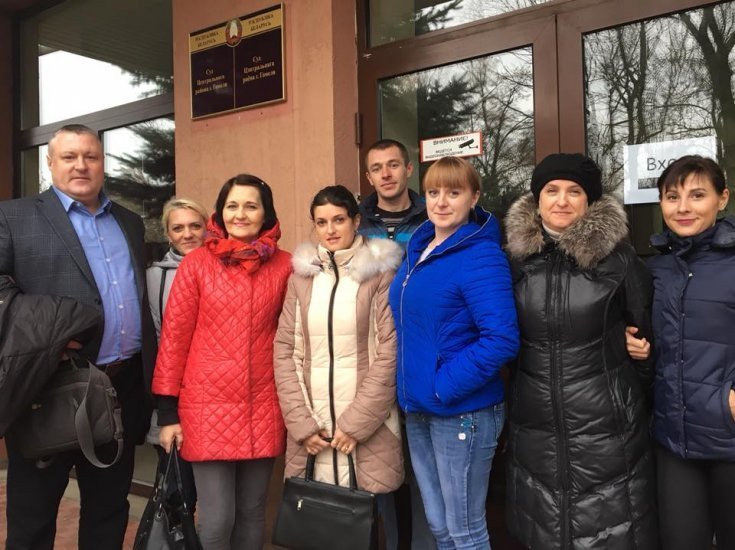 - You don't only dedicatedly struggle for the workers' rights in courts, but also work with the UN Human Rights Committee a lot.
- Yes. In addition to the current activities of the trade union, I participate in several other projects. Including, I conduct daily reception of citizens within the framework of the current legal reception in Homel, where Belarusians can apply for the protection of their civil and political rights.
I help people to exhaust all possible domestic remedies in order for a person to have the right, if I see that the case is potentially interesting for strategic litigation, to apply to international instances.
In Homel, the Center for Strategic Litigation, an initiative set up in 2006, which I manage, is working. As part of this initiative, we file complaints with the UN Human Rights Committee. Since you will not apply to the Human Rights Committee with socioeconomic rights, as the right to work is not protected by the International Covenant on Civil and Political Rights.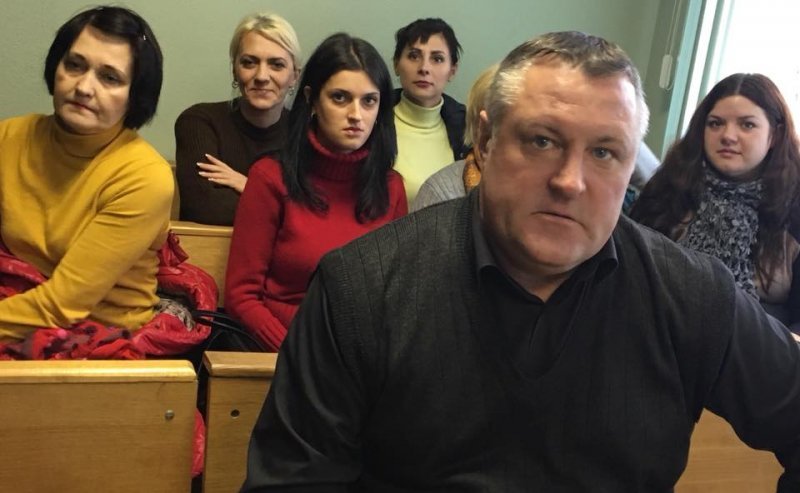 Every day I work from 8 am to 5.30 pm. I set high demands to myself. I want to emphasize that what I do is system work, and not how some may say, "I tried to protect someone, then I do my own business for a week". For me, protecting human rights is a work, not a hobby.
And I'm proud of the results of my work in the independent trade union. Henadz Fiadynich always applauds me when I restore unlawfully dismissed workers or defend the rights of workers. For example, in the case of a schoolgirl from Maladechna, who died at potato harvesting works, we recovered moral damage and the school has already paid teh compensation! And the first billion (the amount is indicated in Belarusian rubles before the denomination - Charter97.org) has already been returned to people. Here's a concrete result.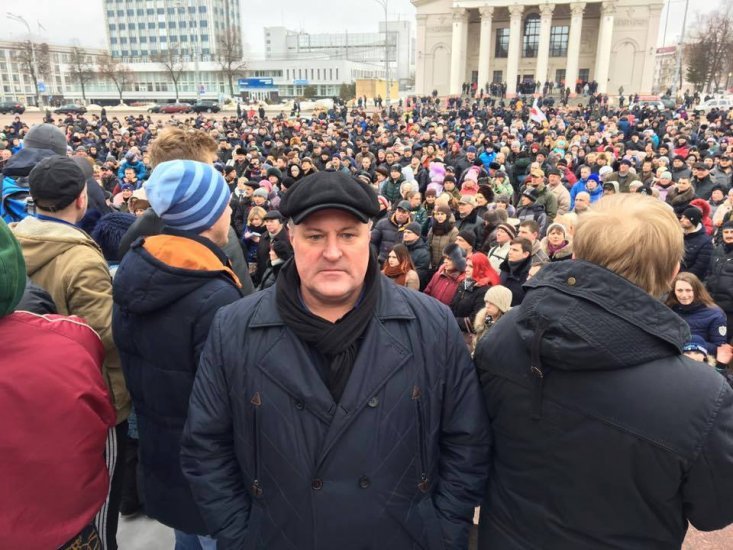 I can say that there is also a result for the protection of civil and political rights. Every year, our Center for Strategic Litigation registers about 10 complaints in the UN Human Rights Committee. Annually from 5 to 7 new complaints are considered by the Committee. What is important, decisions are made in favor of the citizens of Belarus.
During the presentation of the Charter'97 award, Andrei Sannikov told me: "You are doing a very great job for the future. It is a matter of time that now the Belarusian government does not comply with the decisions of the UN Human Rights Committee. These cases do not have a statute of limitations. Decisions will sooner or later be implemented."
In fact, out of 250 complaints since 1992, which are registered with the UN Human Rights Committee, a third belongs to my computer and my head. And if the complaints are registered, decisions will be made on them. It's not just pulling a piece of paper out of a notebook and writing something "on one's knee." Colossal work stands behind this.
- Last year, you helped many unemployed people who fell under the absurd Lukashenka decree "On Social Parasites"...
- I wanted to emphasize the way we worked with the "parasitic" decree in 2017. For this, in fact, Charter'97 awarded me the National Human Rights Award named after Viktar Ivashkevich in Warsaw.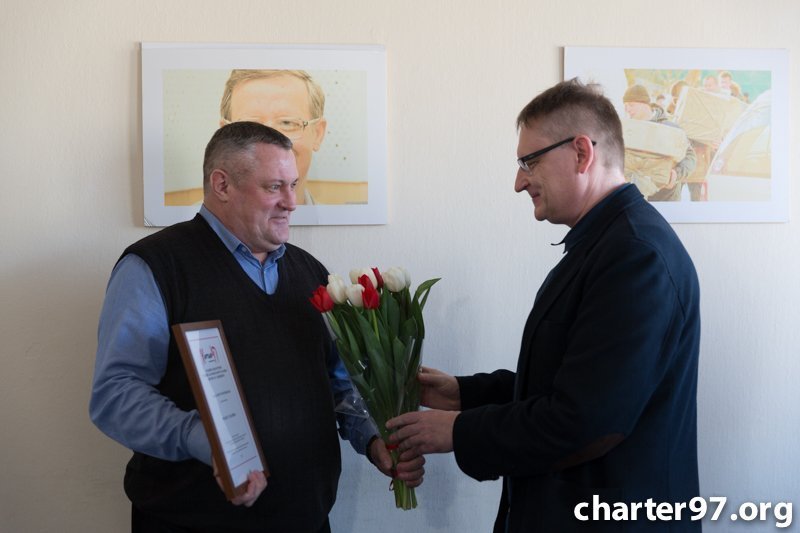 In fact, we conducted the first and last "parasitic" trial in Homel! Perhaps this victory became one of the fat nails in the coffin of the scandalous decree. Another bright reminiscence of the past year is the Homel Outraged Belarusians' March on February 19. I then spoke from the rostrum and three thousand people applauded!
By the way, the authorities called me "a lawyer for parasites." They wrote this on the KGB's sites.
I would also like to note that the undisguised pressure that the authorities are now exerting on our trade union in the form of criminal cases against Henadz Fiadynich and Ihar Komlik, mass questioning of activists - as yet, is the assessment of the power of our activities.
I think that one of the biggest nails in the cover of the coffin of the decree on "parasites" was put by the REP trade union. I am very glad that I am involved in this, and the Charter'97 noted my modest activity. We overcame the decree together.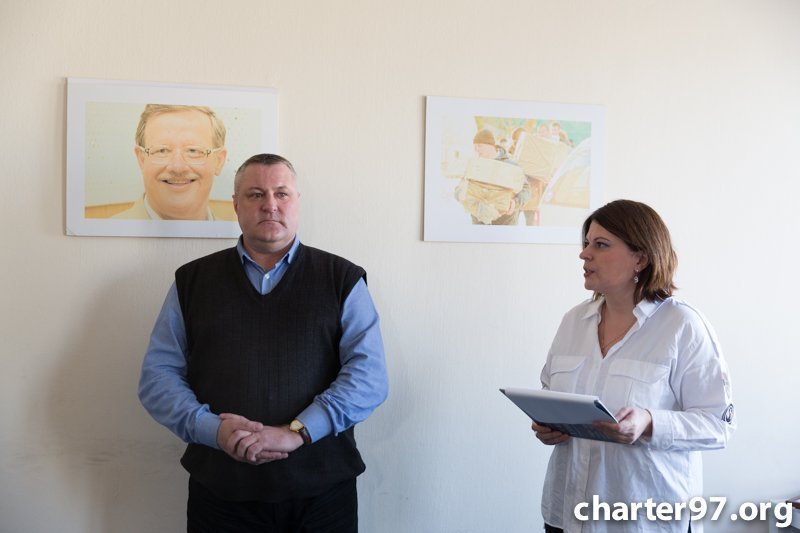 The authorities called 480,000 Belarusians "parasites", 40 thousand of them, according to the authorities, paid the tax. It turns out that another 440 thousand were supposed to pay $ 200 each. I calculated it, and huge sums came out - millions of dollars! And thanks to our struggle, the money was left in the pockets of the Belarusians.
- You told about your activity as a lawyer in detail. However, we would like to know you from another side. Please tell us about your family. In which spirit do you raise your sons?
- As for children, I raise them in a very simple way. I think the basic thing I should teach my sons is respect to the people, to the parents. Our mother is more emotional than me, she's more like a friend to our sons, while I am the father. I can say the kids take me more seriously than her. I try to show my sons that a man should be serious. As one can earn respect only by doing decent deeds. Probably, I would raise a girl in a different way. But God sent me sons.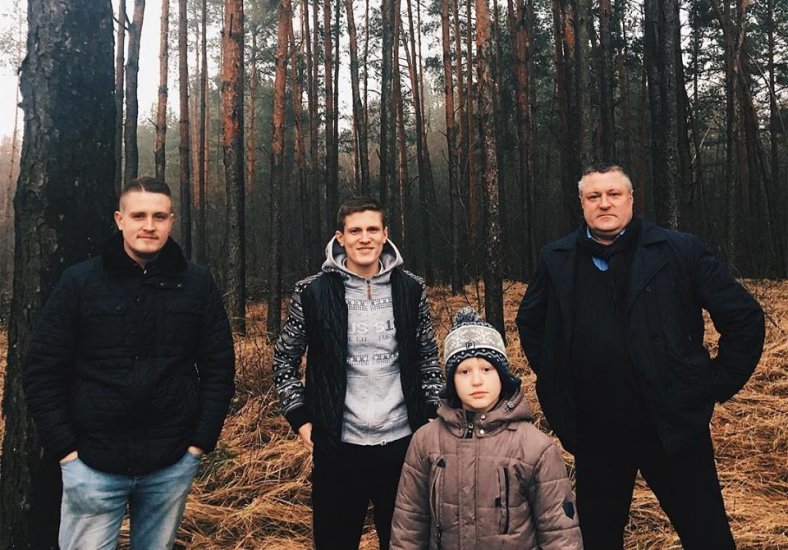 Two elder sons have already served in the army, they live separately from us. The middle son is going to enter the university this year, now he's attending the preparatory courses. I want him to study law. Perhaps in the future, I will give him my knowledge, it is possible that he will become a human rights defender.
I bring up sons strictly. I try to teach them how to act in emergency situations. It is very important for me that there is a very strong connection between my children.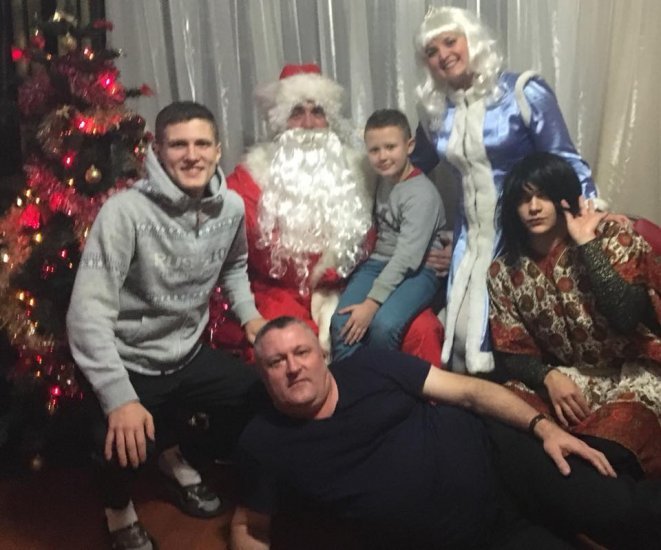 - Where do you take strength from?
- You know, I had ordinary parents. No one helped me, I achieved everything by myself. Everything I have is due to my character, my talents. Strength comes from inside, from the character. It's a very difficult question.
My school years passed in the 1970s. At that time in the USSR there was an unambiguous ideology that you should become either a space pilot or an outstanding physician. In a word, you must become a star, a famous person. If you do not become another Yuri Gagarin, you were born in vain and wasted oxygen.
My father, opened my eyes to many things, and I am thankful for that. He explained to me as an adult why I would not become a space pilot or something. I explain to my children that the most important thing is not the position, but being a personality. It is important to be in harmony with your conscience and other people.
In general, my father didn't tell me who I should be. I made my choice to be a lawyer consciously, after some years, when I became older. Although, however, my elder sister influenced me in this, as she's also a lawyer.
I would like to emphasize once again, that human rights defense for me is not a hobby, but proper work. When there's work, I would come to the office even on Saturdays or Sundays, when there are no clients. Sometimes I would write a claim to the UN for a month. This is painstaking work.
I like what I do. Work is absolutely not a burden and let it be a loud phrase, but work for me is a holiday. I like to win small victories, to protect people. At such moments I see what people need and I think that it was not for nothing that I was called "the advocate of the parasites".
- What case that you won do you feel most proud about?
- Probably, it's my case "Sudalenka against the government of Belarus", which I won in the UN Committee on Human Rights. I proved that the state in 2004, when I ran for the "parliament", applied to me discrimination under political grounds. This is the only thing in the UN, to the present day, where the citizen of Belarus, Leanid Sudalenka, proved that during the "elections" the authorities applied discrimination to a candidate for "parliament" for political reasons. I proved, I nailed them down! The Committee took the decision 10 years ago, in 2008. This was preceded by huge work. In fact, everything is very complicated.
- Who is a role model for you?
- No one teaches human rights defense at the universities of Belarus. Educational establishments train tax inspectors, prosecutors, judges, policemen, investigators, but not human rights defenders or human rights advocates.
Frankly speaking, the topic of human rights defense was quite far from me after I graduated from the university. Later, I took internship of the Helsinki Human Rights Foundation in Warsaw. The foundation was headed by Marek Nowizki back then. I completed the internship and it was only there that I understood what human rights really meant. Of course it was easier for me to get to grips with this theme, on the basis of my higher education in law.
It was Barys Zvozskau who advised me to take this internship, whop inspired me to go there. Sadly, he is deceased. He headed the "Legal Initiative" in Belarus. The Human Rights House in Vilnius has been named after him. I think this person is my mentor, my role model. I am proud to be given a chance by fate to work with him and to learn from him once.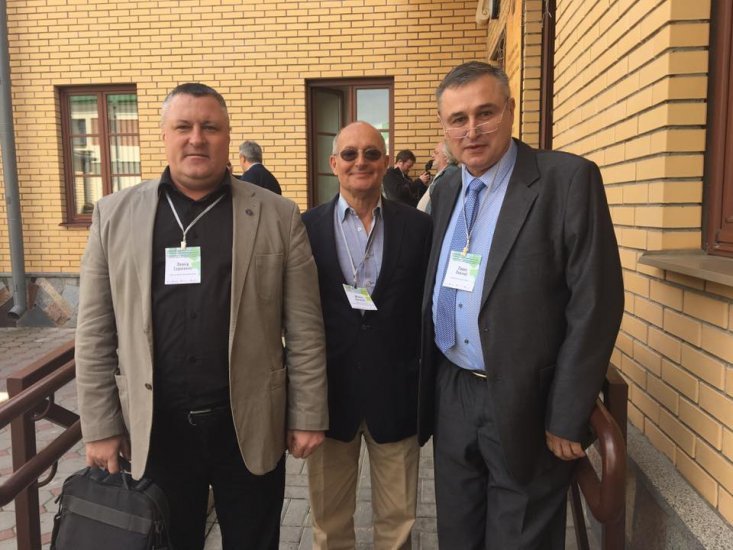 Barys Zvozskau has become my mentor in the part of civil and political rights, which I defend every day, the same as social-economic rights.
- This year, we mark an outstanding date - the 100th anniversary of the BPR. What does this date mean for you personally?
- I was born in the USSR. Since childhood we have been taught that we were born in the "great" and "mighty" Soviet Union. Such was the state ideology. I remember, we even collected pencils and notebooks for the "hungry" children of America at school. We were always told that we are the happiest, as we were born in the USSR. We lived in a vacuum.
Then, when the Union was already falling apart, everyone began to search for the roots and it turned out that Belarus has a great, centuries-old history.
Today I understand that the history of the country is the main link that any state has.
When in 1996, as a result of the "referendum" national symbols were dismissed, people, including me, became even more interested in history. And I believe that if not today, tomorrow the historical symbols will return.
Lukashenka's ideology has been looking for happiness for 24 years in different countries like Venezuela and Qatar, but found nothing.
Patriots still use symbols. This suggests that nothing artificial, fake, forced lives for a long time. But the people's spirit lives. The historical component can unite the Belarusians. The centenary of the Belarusian People's Republic is a very significant historical event.
I would like to comment on the blocking of Charter97.org. As you know, we wanted to hold a street procession in Homel in February, but the authorities denied. Nevertheless, we continue to fight for it.
The block of Charter'97 is a blow to the freedom of speech and freedom of expression in Belarus.
It's no secret that Charter'97 is the most widely read and recognized opposition resource in our country. The authorities decided to show that they want to control what the Belarusians read.
I wish you to be unblocked as soon as possible. I continue to read Charter'97 now. Fortunately, there are many ways to bypass the block: various programs and anonymizers. I hope you will soon return to the information space of Belarus.
Fact sheet by Charter97.org:
Leanid Sudalenka was born on September 23, 1966 in the Homel region.
He graduated from the Law Faculty of the Homel State University named after Francysk Skaryna, completed internship in the human rights issues at the Helsinki Foundation for Human Rights in Warsaw and at the Human Rights House in Vilnius.
He worked as a legal adviser in various organizations of Homel, in 2006 was dismissed at the end of the contract as a lawyer of Beltransgaz. Since that time Leanid has been a legal inspector of the independent trade union REP in the Homel region.
He is married and has four sons, two of whom have served in the army and live separately.