Volha Mikalaichyk: Belarusians Got a Great Sign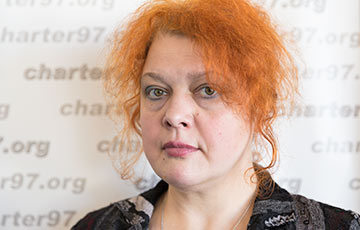 Lukashenka is on the hook and he is too weak.
Public activist and film director Volha Mikalaichyk informed Charter97.org while commenting on events occurred on the 100th anniversary of BPR.
- Now many talk about some "afterglow" of Freedom Day. What do you think happened on March 25?
- I would say it was the collision of two traditions: an ancient and strong with a new and mean.
The festive procession on Freedom Day has the history of more than 20 years. To a greater extent it is the history of our country, rather than the alien power of Lukashenka. For 20 years the Belarusians have been maintaining continuity with all those who fought for independence of our country in the past and in this century.
Every year, on March 25, the idea of an independent, European Belarus, initiated by founding fathers of the BPR comes to life again and again. It is especially noteworthy on the eve of the Catholic Easter, when believers experience the Resurrection of Christ. And the idea of our independence resurrects every spring.
This year the 100th anniversary of BPR was special. Part of the society led by such well-known politicians as Andrei Sannikov, Mikalai Statkevich, Uladzimir Nyaklyayew voiced their intention to defend their values. There were much more people who wanted to celebrate the centenary of BPR with the procession and the concert. Therefore, the scared authorities turned to the Trojan Horse operation.
- What does this expression mean to you?
- The concert near the Opera House could have become the logical end of the procession. But the authorities tried to turn it into such a "Trojan horse" that would separate people who were against Lukashenka's regime. And there are the majority of them. That is why the concert was "adjusted", and the procession from Yakub Kolas Square was prohibited. The march and the concert were supposed to unite us, and not to separate. I also wanted to come to the concert, but with my head held high, after walking under a white-red-white flag along Independence Avenue.
Speaking frankly, I expected something of this kind. Lukashenka does not know how to act directly, rush into a battle openly. Lukashenka is a vassal of the Kremlin. Putin's aide cannot be trusted. I have said many times that it's pointless to negotiate with those who bite to the elbow, if they are offered a finger.
So I was not surprised when I saw the unknown in plain clothes, more like alcoholics, under my windows from Wednesday.
- Did you nephews call them alcoholics?
- It is hard to deceive children. They often see the world as it is.
- And how were you detained?
- I managed to celebrate Freedom Day at the time of my arrest.
It was even better than I could expect. I arrived by taxi to Yakub Kolas Square. As soon as the car stopped, I was captured and pushed into another car. But I could shout "Long Live Belarus!"
- What did happen next?
- I was immediately shot by camera and asked how many fines I had. I said them to relax because I had no more fines. Then I managed to call my friend who was going to Yakub Kolas Square and to warn her. Yet I had time to congratulate Pavel Sevyarynets with his new born son.
Then I was required to switch off my phone and was taken to the Partyzanski District Police Department. I spent a couple of hours in a cold ward-type room. I intended to stay there till Monday, but a few hours later I was taken to the penalty ward on Akrestsina Street.
At about 9 pm the ward doors opened and in an hour and a half I was released and handed flags, a megaphone, and portraits of political prisoners. However, I signed the paper to appear in court.
- How could you comment on such an unexpected release?
- First, I was glad to know that Uladzimir Nyaklyayew, Mikalai Statkevich, Leanid Kulakou, Maksim Vinyarski, Jauhen Afnahel were at large as well.
We even managed to celebrate Freedom Day and the anniversary of BPR, and to discuss reasons of our release. I think it is a powerful sign for those who resist the authorities. Lukashenka is on the hook. He is not strong enough to do what he wants. Europe can really influence the processes in Belarus. Unfortunately, only Europe.
If we are more persistent, then we can also join this process. We just need to be more united, do not let yourself be disconnected with the help of all sorts of "Trojan horses". Then we can really affect the situation in the country.