Occupiers Smashed In Chornobaivka Again: Town Shaken By Unprecedentedly Powerful Explosion
22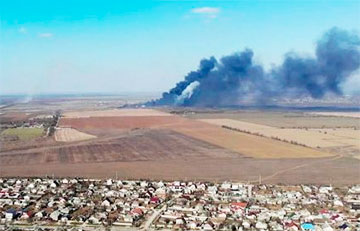 The sky is full of smoke, the fire is clearly visible from Kherson.
The Ukrainian troops again smashed the Russian invaders in Chornobaivka. After the morning strike, explosions are heard — the enemy's ammunition is detonating.
This was reported by speaker for the Odesa regional military administration Serhiy Bratchuk on Telegram.
"It's Chornobaivka again, and again loudly with a long detonation. This morning a new episode of the legendary show was released. A powerful explosion thundered in the airport area, where rashists usually cluster near their equipment," wrote Bratchuk.
At the same time, the media massively disseminate information about the strong sounds of explosions and a fire in Chornobaivka. According to the preliminary information, the occupiers' ammunition depot is on fire.
Local residents report that although they witnessed "all Chornobaivka episodes", such strong explosions have never been heard before.
The sky over Chornobaivka was engulfed in smoke. The fire is clearly visible from Kherson.
Before that, the Ukrainian military once again hit the invaders in Chornobaivka, Kherson region on July 7, which turned out to be a jubilee, 25th strike by then.