Thousands Opposition March In Center Of Warsaw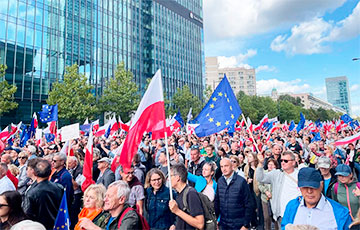 The Civic Platform, the largest Polish opposition party, is the organizer of the march.
On Sunday, October 1, two weeks before parliamentary elections, a crowded street march is taking place in the Polish capital Warsaw to rally opposition supporters.
The organizer of the Million Hearts March is the largest Polish opposition party, Civic Platform.
The march is broadcast by onet.pl.
The protest began in the center of Warsaw at 12:00, reaching along Jan Paul II Avenue to Rondo Radoslaw Square. The march is scheduled till 16:00 (local time).
"Impossible is nothing. I feel that a turning point is coming in the history of our fatherland when I see these hearts and when I see these hundreds of thousands of smiling faces," said the Chairman of the Civic Platform, Donald Tusk, starting the protest.