Prosecutor demands to sentence Parsyukevich to 3 years of colony
12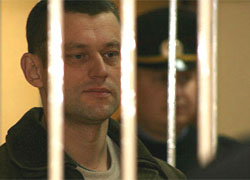 Prosecutor Syarhei Kunash has recommended sentencing the businessman Syarhei Parsyukevich to three years of standard regime penal colony. Besides, as said by him, this term is demanded by him to the accused considering 'mitigating circumstances': the political prisoner has an underage son and suffers from asthma.
As we have informed, Syarhei Parsyukevich was arrested in Minsk on March 4. Vitsebsk businessman was detained for alleged "violent actions against a policeman". Earlier Parsyukevich was arrested for participation in a rally of entrepreneurs in Minsk and sentenced to 15 days of arrest. He served the arrest in the remand prison in Akrestsin Street in Minsk.
As stated by S. Parsyukevich, on January 21 he was harshly beaten up by an officer of the remand prison Alyaksandr Dulub. Later the policeman charged S. Parsyukevich with beating him, in order to escape abuse of power charges.
The chairman of the Council of individual entrepreneurs of "Smalenski market" in Vitsebsk, Syarhei Parsyukevich, is a retired police major. He retired in 2004 while occupying a position of the head of judicial and criminalistic department. After that he started his business activities.