EP president: Compromise with Lukashenka's regime impossible
31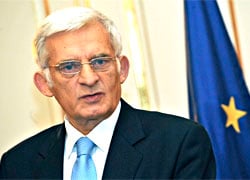 The European Parliament invites 10 Belarusian observers, all representatives of opposition and civil society, to Euronest, Brussels -based Europolitics.info reports.
6the official EP website hasn't given this information yet. According to Radio Racyja, this statement was made by EP President Jerzy Buzek at his press conference in Warsaw.
"We have decided that Belarus won't be represented by Belarusian MPs at the Euronest Parliamentary Assembly. We have delegates from the parliaments of Ukraine, Moldova, Georgia, Azerbaijan, and Armenia. Representatives of NGOs and opposition will be invited form Belarus. We offered a compromise: Belarus sends five MPs and five representatives of NGOs. But in this situation, when the opposition and NGOs feel such a pressure, any compromises are impossible," Jerzy Buzek said.
A EP delegation arrives in Belarus next week. Among other issues, the delegation is to discuss Belarus's representation in Euronest.
Konrad Szymanski, a MEP representing the Polish party Law and Justice, commented on this decision:
"We returned to our previous position," Konrad Szymanski said. "We have never recognized the parliamentary elections were honest in Belarus. There are no conditions for inviting to the European Parliament the "MPs" elected in such a way. It's no sense in experimenting with invitation of persons, who are not representative, unless honest elections are held in Belarus."
We remind that repressions against the Union of Poles have increased in Belarus. People, struggling for the right to remain an independent organization, are being arrested, criminal case are instigated, slanderous articles are written in official press, Polish Houses are being seized all over the country.
Three peaceful opposition actions were brutally dispersed in Belarus for one week. Demonstrators were arrested and beaten.
On February 17, the Sejm of Poland adopted a resolution condemning actions of the Belarusian authorities. "Taking onto account the new wave of repressions against the Union of Poles in Belarus and Union activists, the parliament finds it necessary to return to sanctions in relation to Belarus," says the resolution proposed by Marshal of the Sejm Bronislaw Komorowski.
Actions of the Belarusian authorities were condemned by the European Parliament and many European politicians. The French MFA also expressed its concern over the situation with the Polish minority in Belarus.