Belarus not to get Eastern partnership preferences due to authorities' policy
20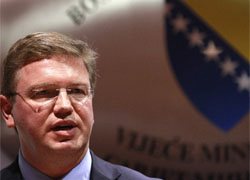 Relaxation of visa rules for Belarus was a political matter, said Stefan Fuele, Commissioner for Enlargement and European Neighbourhood Policy.
The Commissioner met with journalists on May 24 during the informal meeting of EU foreign ministers and partner countries of the Eastern Partnership project in Polish Sopot.
Asked by charter97.org journalist Natallya Radzina to estimate the situation with democracy and human rights in Belarus, Stefan Fuele noted that human rights situation in the country had been the first matter he discussed with the Belarusian foreign minister. "We seek to send a clear message to the Belarusian authorities what is unacceptable for us. The situation in Belarus has considerably decreased in the last six months. We are deeply concerned about this. Belarus authorities didn't follow OSCE recommendations at the recent local elections. We insist that the upcoming presidential elections should be carried out in line with democratic standards."
The deterioration in the human rights situation in Belarus is one of the reasons why Belarus falls behind the Eastern Partnership, the Commissioner thinks.
Belarus falls behind the in Eastern Partnership project at all points. If one estimates the place of Belarus in the programme, it will be evident that practically no issues are discussed with the Belarusian authorities. Association Agreements, free trade, visa facilitation weren't discussed with Belarus, Stefan Fuele says. The EU discusses liberalization of the visa regime with Ukraine, Moldova, Georgia, Armenia, and Azerbaijan. With all participants of the EaP project expect for Belarus.
"The "weather" in Belarus is not very good. The situation is getting worse. The European Commission is working over the documents defining condition for visa facilitation with Belarus. There's no secret that compared with other members of the EaP programme Belarus falls behind in the visa issue. This is a political matter. Being in such a situation, Belarus shouldn't expect much enthusiasm. There is the solid foundation for cooperation is democracy: human rights, and the ruler of law. If any of EU partners lacks the three elements, chances for cooperation are getting lower", the Commissioner Enlargement and European Neighbourhood Policy said.
Miguel Angel Moratinos, Minister of Foreign Affairs of Spain, holding the EU presidency, answered questions to charter97.org. The Spanish foreign minister noted the Europe was concerned about the situation in Belarus.
"Democratization and human rights are the fundamental conditions of the European identification and neighbourhood policy. It was clearly defined this during the EaP founding summit in Prague. Europe has spoken and continues to speak about the necessity of observing human rights by the Belarusian authorities. Europe is concerned about the situation. The demand to observe human rights is extended to everyone, because it is vital. Agreements must be fulfilled and progress must be demonstrated in the human rights area", Miguel Angel Moratinos said.