Russia refused to construct nuclear power plant in Belarus
44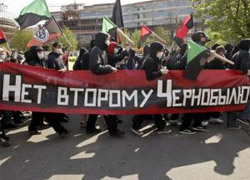 Russia is not interested by that project unless certain conditions met.
Moscow has refused to sign an agreement on construction of the first nuclear power plant in Belarus with Minsk until a joint venture for selling electric energy from the NPP created, Interfax reports. Earlier the Belarusian leadership stated that a package of agreements on the NPP construction would be signed before the end of July 2010.
Russia wants to get at least half in the distribution joint venture. Thus, Moscow lays claims on 50% of profit from energy sold from the Belarusian NPP in case it would be built on account of the Russian loan.
"The issue of shares in the distribution enterprise could be a matter of negotiation, but the terms of its creation, on which the Russian side insists, are unacceptable," states a source if the agency in the Belarusian government.
The source of Interfax also added that Belarus had offered the Russian partners to build a third block of the nuclear power plant, which would work for export only and would be a property of he Russian side. However Russia declined this offer.
In the talks with Belarus on creation of the selling joint venture Russia is presented by Inter INTER RAO UES, an operator of export and import of energy in Russia. Its board of directors is headed by Igor Sechin. The company which imports Russian energy to Belarus, and to the Baltic states through the territory of Belarus, has already stated that "they are surprised by such a reaction of the Belarusian side".
The Belarusian authorities plan to construct the nuclear power plant in Hrodna region, a few dozen kilometers from Lithuanian border. As it is informed, the NPP would have two power blocks of 2.4 thousand megawatt. The first one is expected to be launched in 2016, the second one in 2018. A Russian company "Atomstroyexport" is the general contractor of the construction.
In May 2009 Russian mass media informed that Minsk asked Moscow a loan of $9 billion for construction of a nuclear power plant.