Regime carried out political genocide on December 19 (A document)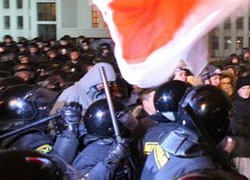 The International Monitoring Mission of Committee of International Control over the Human Rights Situation in Belarus has published its analytical review on situation with human rights defenders and human rights organizations based upon research of testimony of 205 citizens detained during the protest rally in Minsk on December 19, 2010.
The document has been prepared in cooperation with the Center for Legal Transformation and other national NGOs.
Press release
The findings draw on 205 testimonies of citizens detained at a public action in Minsk 19 December 2010
This aide memoire was drafted by the HR Watch International Monitoring Mission in Belarus in conjunction with the Law Trend Center and other national NGOs based on the testimony filed by 205 individuals in Minsk between 3-21 January 2011.
The study analyzed 205 questionnaires the respondents (aged 18-61; 43 females and 162 males), detained at a public action in Minsk on the night of 19-20 December 2010, filled out personally.
Study conclusions and recommendations
We assert that the authorities were most brutal when detaining citizens. Violence was demonstrated with every fourth detainee, with humiliation and derogation on top. We also admit, that the bulk of the detainees did not counter detention, and rather raise their arms showing submission to the authorities. The authorities themselves did not have any insignia and even would mask their faces.
The number of violent actions against the detainees held in specialized vehicles, stations and courts curve down, while the number of derogatory and brutal treatment cases curve up. This is proved by the fact that the authorities kept the detainees for a long time in crammed vehicles in most degrading postures—face down; propped up against the wall with arms behind—and without access to potable water or facilities, or healthcare assistance to those with serious injuries. Also, these acts of humiliation would be accompanied with blasts of violence.
Against this background, the violated procedures of administrative prosecution looked especially scoffing. Protocols would be concocted and template compiled in mass prior to the official process; reports would be templated, too, while some reports would have detention place discrepancies.
Court proceedings violations in administrative cases on detainees were also numerous and almost all trials would last 5 to 15 minutes, while the bulk of the detained were never brought to administrative liability before and required individual approach.
Judges would brutally violate the trial process: attorneys for defense or relations, journalists and the public would not be let in; witnesses for defense would not be heard out; no explanations were provided how to appeal against adjudications; the adjudications would not be handed out for further appeal.
Conditions of for administrative law detainees in all three facilities were in many instances derogatory. The cells would be overcrowded and cold with hardly working ventilation and dim lights, and practically no bed linen, beds or furniture for basic rest. No potable water was provided with poor quality food; shower and walk services were limited and insufficient for habitual life; toilets with no privacy at all. The facilities personnel was gruff and would deplete the contents of the parcels brought for detainees.
A general conclusion based on the above facts and analysis can be as follows: the RB authorities were not ready for such massive actions and failed to ensure human rights and liberties of citizens when the public action was over, during formalities with the detainees, during court trials and maintenance at detention sites.
This lack of preparedness resulted in massive violation of right of Belarusians in December 2010-January 2011.
In light of this, the authorities and NGOs of Belarus should:
1.Immediately take action to retrain the police officers involved in termination of massive public actions to further avoid excessive force against the detained, as well as actions of brutal and derogatory nature
2.All police stations in raions that might host massive actions must be refurbished to the capacity to accommodate a larger number of detainees
3.Immediately, all Minsk police stations must be stocked with heavy specialized vehicles capable of delivery of large groups of detainees to close police stations without humiliation of dignity
4.Shortly, all facts of excessive violence, brutal treatment and derogation during and after the public action of 19 December 2010 must be investigated
5.Minsk courts must be refurbished to accommodate for public hearings
6.The judiciary must scrutinize the cases when judges ignored the process in the case of the detained on 19 December 2010
7.Shortly, the Minsk IVS, Zhodino and Minsk TsIP facilities must be restructured to accommodate for more tort detainees
8.The above must be overhauled based on compliance with international detention standards
9.Regional authorities must investigate all illegal and derogatory actions of the detention sites personnel
10.NGOs in RB must help the victims file complaints against officials who had acted excessively rudely and derogatory when terminating the 19 December 2010 action and delivering and treating the detained in specialized vehicles and at detention sites
Notice:
About the HR Watch International Monitoring Mission in Belarus http://hrwatch-by.org/kratkoe-opisanie
The International Monitoring Mission in Belarus was founded by OSCE NGOs and international civic networks and orgs, and it released its first statement on human rights status in Belarus.
The mission is mandated by HR Watch International Monitoring Mission in Belarus that comprises OSCE human rights watchdogs international civic networks and orgs.
Its mission is to monitor the fundamental human rights status in Belarus, as well as defense of human rights activists and assistance in their professional activities.
The mission underscores that observation of human rights is of a legitimate concern international community and calls on the RB authorities to comply with its HR international commitments, and calls on OSCE member countries—in compliance with OSCE premise—to monitor RB's compliance with those commitments.