Zmitser Bandarenka loses sight in KGB jail
14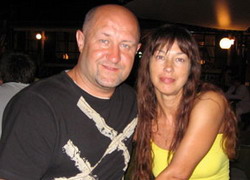 The wife of a coordinator of European Belarus civil campaign received the third letter from her husband, who is in the KGB jail now.
As it can be concluded from the letter, Zmitser Bandarenka got a cold and his sight is decreasing. Volha Bandarenka provided the text of the letter to charter97.org website.
"Hi, my dear Volha,
As I've said already, life is getting normal little by little. I've received four letter and two telegrams from you for the last week. I'm happy you got two of my letters. I suppose I get all your parcels. The postcards are really awesome! Everything you do for me, I mean clothes, parcels, letters is 95 per cent in their right place and in time. Thank you for everything.
I enjoyed you latest letter of February 9. I like you mood. It's good you understand you should arrange your time and energy efficiently, because now you are the head of the family. I didn't write to my father. I know you'll tell him everything properly. I am reading a book by Pikul here, but very slowly. Maybe you could buy a couple of plastic eyeglasses. I cannot ready without glasses any more.
I've probably lost some weight, but I feel normal. Walking in fresh air is allowed one or two hours every day. Days are becoming longer, there's more sunlight in cold window. Maybe you should talk to the priest. What happiness to go church on Sunday! Thanks for regards. Again, send my best regards to all relatives and friends. Hold on! Let God protect you. Happy St Valentine's Day! Hugs. Your Zmitser
P.S. Need pills for sputum. Have a cold."