Zmitser Bandarenka to stand trial April 26
6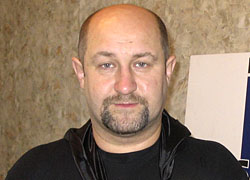 A coordinator of European Belarus civil campaign will stand politically motivated trial in the court of the Pershamaiski district of Minsk.
Charter97.org has learned this from Volha Bandarenka, the wife of the political prisoner.
The authorities accuse Zmitser of "organizing or preparing the actions, which breach public order, or taking active part in such actions" (article 342, part1).
We remind that the politician is an election agent for presidential candidate Andrei Sannikov. He was arrested early on December 20, 2010, after a peaceful protest demonstration of several thousand people against fraudulent presidential elections. He has been in the KGB jail since then. He may face up to three years in prison.