Come to court sessions wearing blue ribbons!
28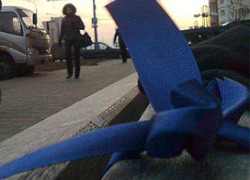 "European Belarus" urges to support political prisoners and attend trials over them.
This week trials over the leaders of "European Belarus" civil campaign, Andrei Sannikov and Zmitser Bandarenka, start.
Activists of the campaign call upon all pro-democracy activists and concerned people to attend the courts on April 26 and 27 wearing blue ribbons or simply to attach a ribbon near the court building in order to support the political prisoners.
The trial over Zmitser Bandarenka is scheduled on April 26, at 10 a.m. The address of the court of Pershamajski district of Minsk is Talbukhin Street, 9.
On April 27 at 10 a.m. the trial over Andrei Sannikov starts. The address of the court of Partyzanski district of Minsk is Syamashka, 33.