Human rights organizations disappointed by the decision of IIHF
19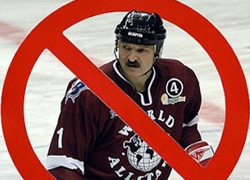 The campaign for the transfer of the 2014 IIHF World Championship from Minsk will be continued.
We, eight human rights organisations in the Czech Republic, Germany, Norway, Slovakia, Sweden and Switzerland are deeply disappointed that the International Ice Hockey Federation confirmed today at its general assembly in Helsinki that the Republic of Belarus will host the 2014 IIHF World Championship.
Belarus finds itself in the most alarming human rights crisis since the country became an independent state in 1991. We believe that to hold the 2014 IIHF World Championship in Belarus would support and legitimatise a regime that violates the human rights of the people of Belarus in an alarming way.
Therefore we will continue our campaign "Don't play with the dictator" until the IIHF
revokes its decision to hold the Ice Hockey World Championship 2014 in Belarus. Our campaign is reinforced by recent support from all over the world, including from CIVICUS, Freedom House, the World Alliance for Citizen Participation (South Africa) and several members of parliament in Europe. For updates on our campaign, please visit www.minsk2014.no.
Press contacts:
Petruška Šustrová, Director
Civic Belarus
Czech Republic
directorat@civicbelarus.eu
Lída Vacková, Center for Human Rights and Democracy.
People in Need
Czech Republic
lida.vackova@clovekvtisni.cz
Dr. Hans-Georg Wieck, Chairman
Human Rights in Belarus
Germany
hagewie@yahoo.de
Lars Bünger, Chairman
Libereco – Partnership for Human Rights
Switzerland/Germany
info@lphr.org
Berit Lindeman
Norwegian Helsinki Committee
Norway
lindeman@nhc.no
Carl Morten Iversen, Secretary General
Norwegian P.E.N.
Norway
PEN@norskpen.no
Martin Uggla, Chairman
Östgruppen – Swedish Initiative for Democracy and Human Rights
Sweden
uggla@ostgruppen.se
Jana Karelova
People in Peril
Slovakia