Viva Belarus! movie's  featured actor apprehends returning to country
31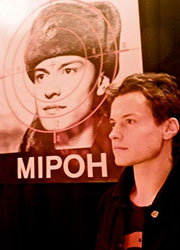 Belarusian special services threaten a Belarusian musician Vincent after he has starred as the main character in the Viva Belarus! movie.
A famous Belarusian musician and actor Dzmitry Vincent Papko told about that in an interview to the charter97.org web-site.
- It is known that after featuring in the movie Viva Belarus! you have started having problems with representatives of Belarusian authorities. What happened?
- The reaction of the authorities to the movie was very funny. It was especially amused by an article in a Polish media. It said that another review of Viva Belarus! was written by the ambassador of Belarus Viktar Hajsionak. It noted that the movie was "a lie and a figment of the sick script writers' fantasy". However at the end it said that the ambassador had not watched the movie yet. It is a kind of an anecdote, which audience laugh at during special showings of the movie, which he have foreseen in the framework of the promotion campaign. At the special showings the makers of the movie meet audience in cinemas and debate. It is known that Anatol Kot, the performer of the role of a general, is already on the black list of Belarusfilm, preliminary conditions for participation in film shootings have been cancelled for him. Revenge for starring in the movie caught me too. When I returned to Belarus after the movie's filming, special services started writing reports on me, which said that I was a criminal and other absolute nonsense. I was interrogated by police because of that. Then I was forbidden to go abroad with no grounds whatsoever. But I still managed to leave. At the moment the work on the sound in the movie was not finished, and we were recording soundtracks. We managed to do everything on the top quality level. Audience highly values the sound in the movie Viva Belarus! and, first of all, the excellent soundtrack, written by Lavon Volski.