Ales Bialiatski: Do not believe Lukashenka's regime, it hasn't changed
47
21.06.2014, 17:39

109,263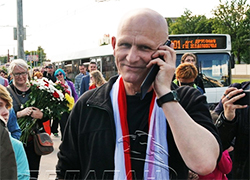 On his release the prominent human rights activist has given an exclusive interview to charter97.org.
The head of "Viasna" human rights centre, Vice President of the International Federation for Human Rights Ales Bialiatski was amnestied on June 21. he has spent almost three years in the colony on rigged charges. Over these years the human rights activist has become one of the most well-known political prisoners of the world.
On Minsk railway station the former prisoner of conscience was welcomed by his wife, colleagues, friends, concerned citizens. Many of them were crying, as it was hard to believe that Bialiatski is at large.
When Ales Bialiatski returned home, he gave an interview to the editor-in-chief of charter97.org website Natalya Radzina.
- Ales, our congratulations! People across Belarus and all over the world rejoice at your release. Lukashenka has signed the amnesty law today, and you are free at once. Why such promptness, while he ha been refusing to release you for three years?
- It is hard to imagine for me so far why it has happened. I am still in the colony psychologically. I just accept the event as a given.
In the morning I was said to stop work and was taken to the penal colony governor. The prosecutor was already there. He announced that I was included in the amnesty. I was given an official document which stated: "Released under Article 6 of the Law of Belarus "On Amnesty" for the part of the term which has not been served."
But on the other hand, I am "a malicious violator". In fact they could leave me in the colony, as these violations have not been cancelled, so the release has come as a total surprise certainly.
Until the last second, when I was told: "you are free", I could not believe that. Just the day before the lawyer visited me and said that until violations are cancelled, I am unlikely to be included in this amnesty.
In an hour I was standing outside the gate of the penal colony. I was placed into an ambulance car, taken to the railway station, given a ticket to a suburban train and taken to Minsk. I called my wife from the suburban train and said I am coming home.
- Some people were quick to say that "by Bialiatski's release, Lukashenka has a move towards the West." Do you believe that?
- It is difficult for me to make any predictions now, but my release has been caused by a certain pressure both inside Belarus and from abroad. I have not served the rest of my term, 1 year and 7 months, and I must repeat that there were no formal grounds to release me.
It is rather not an improvement of the situation, but a forced concession of the regime as a result of the pressure from inside the country and from abroad.
- All Belarusian political prisoners are released under preventive surveillance. It could not be called freedom. On what conditions have you been released?
- I will be told about all restrictions within days. There will be no preventive surveillance for me, as there has been no session of the court which is to impose such surveillance. I can have prophylactic surveillance.
I am going to visit a police department, and there I am to be told how many times I am to come there and be registered. It is a lighter form of surveillance for those who had served the sentence.
- There have been reports that the administration of Babrujsk colony exerted pressure on you.
- That is another story, and it could not be told in a few words. The most important thing is the atmosphere in today's Belarusian colony. This pressure is placed upon all prisoners, not only political ones.
As far as I am concerned, "a zone of neutrality" had been created, and it was "mined." Everyone who crossed that zone, who tried to talk to me in any way or contact me, was immediately transferred to another unit. And there were quite many such people over these three years, several dozens of people.
Some time passed, and the circle of people who lived beside me was changed. In addition, there were people who had been ordered to go with me, they watched literally my every step. I joked that it was impossible even to go to a toilet for me alone, somebody was following me and watched what I was doing there.
After three years I accepted this situation and ignored many things, as there are always better variants and worse variants. If you have a certain experience in prison, you adapt yourself and you are not troubled so much by many things as less experienced people are.
The violations I was charged with were undoubtedly trumped-up. There have been more than 10 of them over the whole period, and all of them didn't hold water, as I was charged with unbuttoned clothes, or for some other trifle. But all these "violations" were the grounds for not including me in the amnesty the year before last. Right before that amnesty I was charged with three violations, and as a result could not be released.
A complete exclusion area was around me until the very last minute. But I was simply to know whom I had to do with and what I was up to, so I endured these things coolly.
- You have been amnestied, as you had been convicted on "economic charges". On what conditions other political prisoners could be released?
- I hope that I would not be the last one in the list of the released, and the concessions made by the authorities under the pressure of the international and Belarusian public, will continue.
One of the key objectives for me (as it was before my arrest, and it remains now) is to push for no more political prisoners in Belarus.
- To your mind, what was the aim of the authorities when they charged you with financial "crimes"?
- The aim was very clear. First of all, to bring strong pressure on non-governmental organizations and human rights protection movement.
Considering the fact that I was the chairman of the human rights organization, which was active and worked before and during the presidential election, monitored the election and offered assistance to victims of political crackdown, by my arrest they wanted to exert strong psychological pressure on the entire civil society of Belarus. I see that as the main aim. And accordingly, I had a task to hold on, to minimize such consequences.
- I understand that it is hard to say in the first minutes out of prison, but has Belarus changed over these three years, to you mind?
- I keep track of what is going on in our country. I was subscribed to all newspapers (both official and independent ones), I was sent printouts from the internet sources. Undoubtedly, the general situation is apathic, but time will tell what is to happen next.
- You had been arrested on the grounds of information disclosed by European countries about your bank accounts with money for human rights activities. Both Lithuania and Poland offered official apologies for this catastrophic mistake. Do you have resentment left?
- No. I was not resentful from the start. All is fair in love and war. Fire on friendly positions does happen sometimes. An unfortunate mistake took place. I do not see any particular policy in that.
- What would you say now to the countries of the West which cooperate with Lukashenka's regime?
- I would urge them to continue their support to democratic forces of Belarus, and do not give much credibility to promises of our regime.
The regime remains the same. All it concessions are tactical ones, not strategical ones. There are no strategical decisions on changes and improvement of the overall situation. All that is nothing but petty underhand dealings. Certainly, I am out of prison and sitting in the circle of my friends thanks to that now, but it does not change anything in the grand scheme of things.