Natallia Radzina: To Win Is the Only Way Out for Us
18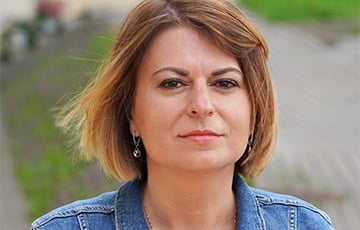 The Belarusians know what they are fighting.
Natallia Radzina, editor-in-chief of Charter97.org, told in the new program Studio X97 about the unique nature of the Belarusian Resistance, the future lustration of policemen and officials and the inevitability of Lukashenka's resignation. The host is Evgeny Klimakin.
Dear readers! You can subscribe on Youtube on charter97video. To do this, one should click charter97video to subscribe. If one wants to receive notifications about new videos on charter97video, click the bell icon.
- Natallia, as the editor-in-chief of charter97video, I'd like to ask you the first question. We, journalists, know that when a reader, an Internet user disengages from a topic, gets tired of it - the queries, searches, ratings of relevant topics, publications of articles drop immediately. When you look at the Charter'97 statistics, what do you see? Is the interest of Belarusians to the revolution, the protest actions, has already dropped or sill relevant?
- Of course, they are in the top and will remain like that. The revolution continues, and when we win interesting processes will start. Therefore, independent Internet media today have a lot of readers both in Belarus and abroad, as the topic of the Belarusian revolution is acute in the world today.
Besides, Belarusians creat the content of independent Internet media and telegram channels. Everybody has phones and shoots video clips at protest actions, sends them. It contributes to solidarity and involvement of people in the revolutionary process.
- Well-known Vasil Bykov wrote that "Uncertainty is the worst thing in one's life because it takes away the will to act". People take part in protest actions. They do their best. However, this uncertainty still exists. It is not known when the regime collapses and vanishes. Does this rob the will to act?
- Everything is quite definite. People know that they will win because we are on the side of good. We are trying to overthrow the hated dictatorship; everyone knows what one is fighting for today. For the sake of our future, children, normal, free life in a democratic country. In general, everyone knows for sure that we will win. Although the revolution has been ongoing for three months, people believe our victory is about to come.
- The head of the Interior Ministry Yury Karaev was dismissed. What do you think the reason is? By the way, note that this is not the first such event in the top, I mean in the law enforcement agencies, the repressive apparatus.
- On the one hand, Lukashenka is trying to build a military dictatorship now; on the other hand, he does not trust his law enforcers. That's why he reshuffles them today. Of course, it's a reduction to send an Interior Minister to the region and to do the same with former KGB chairman and Secretary of the Security Council Vakulchik. Although they say that they went to the Brest and Hrodna regions to watch the nomenclature, as they hesitate and are ready to escape.
Lukashenka will lose. Yes, he replaced Karaev with Kubrakov, who also turned out to be the scoundrel. We saw this at the protest action on Sunday, during the march "We remember and won't forgive!" Law enforcers beat people up again, arrested them, used weapons and stun grenades. It was horrible, because, among other things, such military actions took place in Kurapaty - the site where NKVD shot hundreds of thousands of people, victims of Stalinist repressions. The events in Kurapaty 80 years later, under Lukashenka's regime, are the revival of fascism.
Nevertheless, Lukashenka will lose anyway. The regime has its last days, weeks, at most, months. No matter how you try to retain the power, play off your watchdogs and riot police against people, you will not succeed if everyone hates you. All strata of society are against this criminal regime.
Another point is the economy, which is in a desperate state in Belarus today. If no reforms are carried out immediately, which is impossible under Lukashenka, then the economy will face rapid degradation, and Lukashenka will not be able to pay money even to his riot police. After all, we already know that he spends his resources he has robbed for twenty-six years. He has no chance to get new loans: the West will deny new loans, as well as Russia. Russians are in a challenging situation today.
Therefore, I believe the same policemen, riot policemen, KGB officers are about to lose their huge salaries they are accustomed to. Of course, it will also affect the public sector workers. I expect a sharp drop in wages to trigger serious unrest in Belarus and at enterprises.
- I heard that your relative worked (works) in law enforcement agencies.
- He used to work. He was a police officer and left immediately after the elections.
- Why?
- Well, they were sent to the square. In general, he never participated in the dispersal of opposition rallies. But when he was sent on August 10 and saw his own grandfather in a column of protesters on the square, he wrote a letter of resignation the very next day.
- How do you feel about the fact that personal data of the AMAP officers and representatives of the security apparatus often and regularly appear both on telegram channels and in the media?
- Deanonymization is good in our situation; people should know the names of all criminals. And they must understand that they will not be able to remain anonymous; we will identify everyone, even though they all wear masks today. They are afraid. They are in such a very nervous, semi-hysterical state; they have horror in their eyes; they are afraid. And I understand why. Today they have to oppose their close relatives, their neighbors, classmates. They are hated. Yes, he wears a balaclava at a rally today, but his neighbors know where he works. His close relatives know where he works. His wife knows where he works. You can't hide anyway.
Hatred and contempt of people will haunt them for the rest of their lives. What lies ahead for them? They will either have to flee the country or be tried.
- But, actually, Natallia, what to do with them after the victory?
- Of course, they will have to be tried, and I stand for lustration, all AMAP officers who remained at their jobs after the presidential elections should be lustrated. The same applies to police officers who participated in the repression. And, of course, the employees of the GUBOPiK, who today are very actively involved in suppressing demonstrations. All punitive bodies, all people who were involved in this period to suppress peaceful protests should be punished.
- Natallia, I don't know if you will agree with me, but it seems to me that there is one such sin on our journalistic brotherhood that we often put behind really important topics, if we talk about the situation, about the Belarusian revolution, while speaking about some kind of crazy endless quotes from Lukashenka, which are constantly circulating. "Lukashenka said this, Lukashenka said that." Who cares what he said? The person is sick. And because of this, some really important topics are put behind, for example, political prisoners. What's with Statkevich now? And what about the same Babaryka, Tsikhanouski, Seviarynets, and so on? What is with them now, what is known?
- Unfortunately, very little is known. We know that when they were arrested, they were tortured. In the first months, they were in the pre-trial detention center on Valadarskaha Street, someone was in the prison on Akrestsina Street, and the conditions of detention were simply awful. We know this because even Pavel Seviarynets, a believer, tried to open his veins in protest against the fact that he was kept in a punishment cell without water, in the cold, the conditions were very difficult.
Now, I am convinced, it is very difficult for these people because practically nothing is known about what conditions they are in, what their state of health is. Earlier, in previous years, at least some information leaked out. Now, from time to time, some letters come that have clearly passed the censorship, and there is practically nothing about what is actually happening with these people.
Mikalai Statkevich is trying to convey some words, although he himself is in a difficult situation, to encourage the Belarusian people, to express his admiration for the Belarusians who are fighting so heroically today. We receive such letters from him, but very rarely. And we know that we have extended the terms of detention for Viktar Babaryka, Mikalai Statkevich, and other political prisoners for several more months.
Lawyers in Belarus today are in a very difficult situation; they all sign a non-disclosure agreement. For example, quite recently, I had to edit one material because the lawyer asked a lot to remove the information that his client's conditions were quite acceptable. It would seem that it is an absolutely harmless truth, but he can be deprived of his license because of this. Many lawyers say to relatives of political prisoners that it is better for them to be also silent; otherwise, it will be worse. That is, the process of intimidation of family is still underway. Here I urge at least the relatives not to be silent. Yes, of course, I also have questions for lawyers. What is the point then in your activity if you are silent? Relatives should shout and demand information about their loved ones who are in prison today.
- What you are telling reminds of the situation with terrorists who simply captured people and blackmail their families. What's the way out of all this?
- The way out is to win. Because only if the Belarusians continue to fight, if the mass protests continue, the authorities will back down and release the leaders. Right now, Lukashenka is trying to talk about some kind of dialogue. No dialogue is possible while people are in prison. All people must be released, and this is already hundreds of people.
- Actually, what are the statistics, how much is it now? I read, correct me if I am mistaken, that about fifteen thousand people have already have been to prison in the last three months.
- Already, 16 thousand people in the months before the elections and after the elections have been to prison. Hundreds of people are now in prisons on fabricated political criminal cases. Among them are presidential candidates Viktar Babaryka, a well-known blogger Siarhei Tsikhanouski, coordinator of the civil campaign European Belarus Yauhen Afnahel. We also have many bloggers sitting. They are Andrei Kabanau, Siarhei Piatrukhin, Dzmitry Kazlou, and Ihar Losik. About ten bloggers are involved in criminal cases today. For some reason, they are silent about them. International journalistic organizations should demand their release along with the demands that are being voiced today regarding journalists in Belarus because journalists are, of course, repressed today in the country as never before.
I admire the heroism of my colleagues because, in this difficult time, they showed their best qualities. It is clear that it was very difficult to work; I myself criticized journalists for self-censorship, for hushing up certain topics, but now I admire them because they are arrested, they are beaten, their hands are broken, their noses are broken, their equipment is beaten, but they still continue to come out. The next day after leaving Akrestsina Street - they come to their senses and go again to the rally, again to the street. And this is simply unbelievable, the courage of the Belarusian journalists amazes, and I bow low to them for their work.
- The US Secretary of State Pompeo spoke with the dictator. Do you think that bargaining in political prisoners will begin in the near future, as we have seen it many, many times?
- Probably. Lukashenka really perceives political prisoners as hostages and tries to sell them as a commodity. But I don't think it will help him this time. Let me remind you that the same USA did not recognize him as a legitimate president. It is possible to negotiate with a terrorist if he frees people. But this does not negate his immediate resignation, Lukashenka's immediate resignation. Therefore, in any case, the fate of the dictator is a foregone conclusion. He will not be able to extend his rule at the expense of political prisoners' lives and fates.
- How can you comment on Sviatlana Tsikhanouskaya's ultimatum, the strikes, which then began. Because in some Western media, there was information that, according to experts, it was a false start because not the whole country started to strike, not all enterprises. That's the spirit of the comments, too.
- I agree with you, but I can say that it gave impetus. The most important thing that was said was the demand for the immediate resignation of Lukashenka because the day before both the Coordinating Council and Svetlana Tikhanovskaya began to speak very vaguely on this topic. And when she announced the People's Ultimatum, we welcomed it because she showed will. An ultimatum is, after all, a political action. There are objective reasons for the fact that everyone did not support, and there was no general strike.
Of course, the authorities were preparing for this. They have experience in suppressing strikes in August. It was quite difficult for people to recover from what happened then. Of course, thirteen days to prepare for a general strike was not enough. But nevertheless, I see this fermentation: strikes are still taking place, the protest continues. Students continue to protest. This is an absolutely amazing phenomenon in general - student unrest in Belarus. This has never happened before in our country. And they continue to heroically stand their ground; demonstrations, solidarity rallies, marches both inside universities and on the main streets of cities are held near each university almost every day. Protests continue in theaters. We all know that the leading actors of the Kupalauski Theater have left, the New Theater is protesting now, actions are taking place in the Philharmonic Society, and "Magutny Bozha" is being sung in the Opera House.
People are protesting. Teachers join the students. Vice-rectors refuse to expel students. Associate professors go to prisons for their students. It's amazing; it never happened. Therefore, do not rush to give up; everything continues.
And the same workers are not giving up today. Yes, the enterprises that went on strike tried to fire workers, but people are protesting. More and more people are starting to get involved in the process because they see injustice; they begin to demand that their colleagues are reinstated at work, and, well, released because some are imprisoned. And the protest is growing.
- The whole world admires the wise, peaceful Belarusian people. You even recently published a video on Facebook where the security forces shoot, and the Belarusians clap and shout: "Shame!" If I'm not mistaken. In your opinion, is there a risk that the protest movement will be more radical? Will it be because the government behaves so blatantly?
- I hope that the protest will remain peaceful since the authorities are probably waiting for radicalism. They are trying to organize provocations at protest actions today, including at the Sunday March, when Belarusian television cameras immediately appeared at the provocation scene. Belarusians are peaceful people, and I think they will continue to take part in large-scale actions. There will be strikes at enterprises.
But I cannot be responsible for everyone, because you need to understand that this lawlessness that the security forces are creating today... Diamond can cut diamond; the people in the districts, men in the districts, may not handle it. How long can you stand it? Therefore, a response may also arrive. There may be different cases. And the same security officials must understand this. They themselves provoke people to respond.
- Tell me honestly, how do you react to the endless publications in social networks of various experts, public figures, journalists from Ukraine or the same Russian opposition crowd, in which they advise what Belarusians should do. Does it annoy you?
- The Ukrainians, probably, can advise us something. Because they already have the experience of successful revolutions. It's another matter; maybe they don't really understand that Belarus has never had paramilitary organizations, unlike Ukraine. And therefore, it is impossible to speak here about some kind of radicalization of the protest. As for the Russians, then, of course, we are grateful for the solidarity, but I really hope that they themselves will soon have a revolution in their country. It seems to me that they need to focus on their own country, on their own strategy and actions.
- Yesterday, before our interview, I looked through the Belarusian state media. There are endless festivals, figure skating, marathons. Absolutely some kind of parallel reality that does not intersect with what actually Belarusians care about. Is it true that these landing troopers of Russian propagandists are getting stronger and stronger?
- Yes, of course, they are getting stronger. First, landing troopers from Russia Today were sent to Belarusian television. To the monstrous Belarusian propaganda was added no less monstrous, perhaps, even more, Russian propaganda. As a result, even those people who somehow trusted Belarusian television stopped trusting it absolutely. That small percentage, when they saw this Russian rabid, very aggressive, stupid propaganda, just turned away.
Well, with the rest part, it continues. Alexander Kots, a Russian citizen and propagandist who also worked for the "DPR," was appointed the new editor-in-chief of Komsomolskaya Pravda in Belarus. This is a violation of the law on mass media, since according to this law, only a citizen of Belarus can be the editor-in-chief of a Belarusian media. In protest, journalists began to leave Komsomolskaya Pravda, and editors who had worked there for 20 years began to leave. Komsomolskaya Pravda, by the way, during this period worked very decently; they wrote and published wonderful materials. That is why this cleansing is taking place now and this propagandist was sent.
This is another danger. Russian propaganda begins to intensify in Belarus. It is very important for us not to give up and strive for freedom. And we have to resist, among other things, Russian interference.
- Every day since August, something happens. There are beautiful protests. Tell me, please, in a human way, what situation, what protest had touched you the most? Humanly.
- It's a very difficult choice because I watch all the rallies, protests in Belarus online. For me, Sunday is the day when I don't meet with anyone and don't do anything except concentrate on the rally. Both in my heart and in my thoughts - I am there, in Minsk. And I cry a lot when I watch these rallies. These are tears of joy, somewhere tears of despair when I see that violence is being used against people, but every protest, even the smallest one that takes place, fills me with pride. I am incredibly happy.
- What was the last thing that touched you?
- Well, these are, of course, student protests. When I was a student in the 1990s, it would seem that the regime was not yet so tough. However, we did not have such protests. I would like them to happen, but the student body was quite amorphous and apolitical. Now, of course, it's just a delight that we have such amazing youth. Of course, I admire our grandmothers, who go out to protest marches, and people with disabilities, who come out knowing that they can be arrested and even killed at this rally, but they go and take risks. I call them superheroes.
Low bow to absolutely everyone. And women from the Philharmonic Society who sing at the Kamarouski market, in shopping centers, at train stations - it's incredible. The flash mobs organized by our cultural figures are all amazing. It is very difficult to choose.
- You firmly believe and constantly repeat this that Lukashenka will not be on the horizon soon. Tell me, where did you get such confidence that the people will sweep away power? Is it faith or the logic of certain historical processes, which allows you to assert this?
- It's both the logic of certain historical processes and unconditional faith. My faith in Belarusians has always been there. I was called an idealist; I was told that this would not happen in my lifetime, that it was impossible. And this happened. You see, it happened, and it happened in such a way that the whole world was shocked. So trust me: everything will be fine.