Military Vehicles With Combat Ready Signs Are Framed In Belarus
136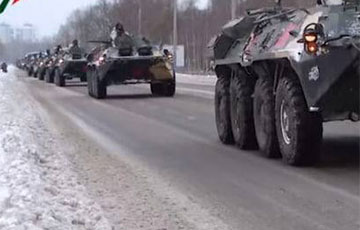 The convoys are moving towards the Ukrainian border.
Yesterday, December 13, dictator Lukashenka announced a "sudden deployment of troops" to the border with Ukraine.
New tactical signs appeared on military vehicles moving towards Ukraine.
Today, December 14, Ukrainian journalist Andriy Tsaplienko drew attention to this fact in a post on his social media page.
According to him, such tactical signs are made before the start of hostilities so that you can distinguish your equipment from someone else's.
In the same way, the invaders put signs in the form of the letters "Z", "V", "O" before the invasion of Ukraine on February 24, 2022.
Tsaplienko does not rule out that the tactical signs were applied with the aim of "intimidating" Ukraine.
Yesterday, Charter97.org reported that a sudden "combat readiness check" began in Belarus on Lukashenka's orders, which in fact turned into a massive deployment of troops. The 103rd Vitebsk Separate Guards Airborne Brigade and a train of military equipment from Vitebsk were sent to the Ukrainian border.