Andrei Sannikov: "We have the right to change power"
89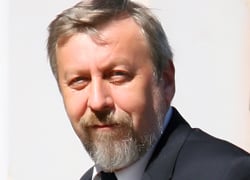 "V victory for democracy is becoming more and more real every day," the leader of European Belarus campaign said at a pres conference on Russian leading portal Lenta.ru.
Starback: Dear candidate, is your victory possible under the current conditions, how can one break down the desperate resistance of the current president's suppression machine? I am going to vote for you under any conditions. I'd like to wish you a victory.
– The victory is possible, moreover, it's becoming more and more real every day. The dictatorial suppression machines are broken like thin twigs when people say their word. We need to realize: we have the right to change the power and elect authorities. These demands are lawful while retention of power by the dictator is illegal. We act in accordance with the law against lawlessness and outrage. We will win.
Yury Ivanovich: If Putin doesn't back Lukashenka, who in Belarus will be able to gain Russia's support?
– These questions should rather be put to Russia's leadership. The only thing I know is that Lukashenka has demonstrated that public friendship oaths are counterproductive. A person speaking about interests of Belarus is likely to win more trust.
Elena: What is your foreign policy programme for the elections?
– The foreign policy strategy is integration into the European Union and strategic partnership with Russia. To be short: Belarus's joining the European Union, strategic partnership with Russia, close cooperation with Ukraine, reliable ties with Poland, Lithuania, Latvia.
Cyril: In your opinion, why among the variety of potential candidates, is this you who gathers close attention of the Russian media (interviews, online conferences…)? Maybe you are a Moscow's appointee?
– My approaches seem to arouse interest not only in Moscow, but also in other neighbouring countries, Poland, Ukraine, Lithuania, if to believe the media.
Alexander (Smarhon): How can you convince me not to vote for Lukashenka?
–If you have seen the recent NTV film about Lukashenka I am sure you will never vote for him. My objective is raising living standards of Belarusians in the nearest time, not in far prospects. This can be achieved only if Belarus enters the European Union.
Shaman: What will be your first step if you are elected president?
– Giving freedom for the media so that people know what is happening in the country. Preparing a constitutional assembly to hold free parliamentary elections and creating a legal framework for a transit period. Adopting a legislative package to free the business.
Pachvarak: You are the leader of the civil campaign European Belarus. What does the name mean and how does it agree with Newsweek's opinion "Moscow's candidate of choice could well be Andrei Sannikov"?
– In real fact, if Belarus and Ukraine join the European Union, this will stir up pro-Russian sentiments in Europe and creates more international opportunities for Russia. Washington, Moscow, and Brussels begin to understand this. Everyone is tired of Lukashenka, so it's quite possible that the world leaders will take concerted actions to change the situation in Belarus. The main choice will be made by the people of Belarus.
THE FULL TEXT OF THE PRESS CONFERENCE WITH ANDREI SANNIKOV IS AVAILABLE HERE