Andrei Sannikov: "I do not believe in Aleh Byabenin's suicide"
226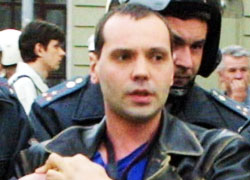 The leader of "European Belarus" states that the death of the founder and leader of charter97.org website raises many doubts.
"On request of the family we have withheld information before the results of medicolegal investigation. I visited the site of the tragedy and I must say that I do not believe in suicide of Aleh Byabenin. Many things rise serious doubts. A note has not been found, the latest sms received by his friends show he planned to go to the cinema on Thursday evening. A week ago Aleh and his family returned from a holiday in Greece. It is strange that the Interior Affairs Ministry is already disseminating its story, without waiting for the results of the medicolegal investigation.
We had extensive plans, we met every day. Aleh is my friend; he is the main member of my team, a brilliant journalist and a very reliable person. I offer my sincere condolences to his wife, parents and all relatives of Aleh," Andrei Sannikov said.
The founder and chief of charter97.org website Aleh Byabenin was found hanged on September 3 at 5.30 p.m. in his summer cottage near Minsk.
The prosecutor's office of Dzyarzhynsk district is carrying out investigation of the death of the founder and chief of charter97.org website Aleh Byabenin.
It has turned out that during the initial inspection of the body a constriction mark was found on the neck of Byabenin, which can be a sign of both a suicide and of a violent death by suffocation or strangulation with a noose.
Aleh Byabenin was born in 1974. He graduated from the Belarusian State University, department of journalism. In 1990ies he occupied the position of the deputy chief editor of "Imya", an independent Belarusian newspaper. Since 1998 he was the founder and head of charter97.org website. Aleh Byabenin has a wife and two sons.