Andrei Sannikov: "Mistrust to findings of Internal Affairs Ministry on Aleh Byabenin's death has only grown" (Video)
55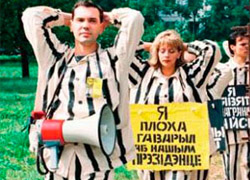 On September 5 the leader of the "European Belarus" Andrei Sannikov was interrogated in Minsk regional public prosecution office.
Here is what a presidential candidate Andrei Sannikov told to charter97.org website after his visit to the prosecutor's office:
«It was "an interview", as they said. Allegedly, they interviewed people on both incoming and outgoing calls of Aleh's mobile phone. When I asked why I was called, if I had already been interviewed at the scene, they said that "many things are still to be clarified".
In the beginning there were general questions: what kind of man he was, how I could describe him, and whether I had noticed something strange, details of his behavior. Then there were questions about charter97.org website, whether I have any bearing to it. I have told that I am going to run as a presidential candidate, that I relied upon Aleh, who had agreed to help me. It was recorded in the record. They asked whether there had been threats to him. I have told that the situation in the country was heating up, people are seized in the streets, demonstrations are disbanded, crackdown on journalists grows. In general, as things go, there is no need to speak about safety of opponents of the dictatorship in Belarus.
Conversation was conducted by an investigator for particularly important cases Alyaksandr Azarevich. Now I have even more doubts that it was a suicide. I was told that to speak even about the date of Aleh's death would be possible only after the results of a full examination which could take about a month. Therefore, my mistrust to the official statements of the Interior Affairs Ministry, which already makes conclusions about the causes of Aleh Byabenin's death, has only increased. As if they cannot determine the time of death with certainty, how can they say why the person has died?", - Andrei Sannikov said.
We remind that the body of the founder and chief of charter97.org website Aleh Byabenin was found hanged on September 3 at 5.30 p.m. in his summer cottage near Minsk. Law-enforcing agencies hurried to inform that it had been a suicide. However, colleagues of the journalist inform that the death of Aleh Byabenin invites many questions. Forensic experts have got mixed up even about the date of the journalist's death. Aleh Byabenin has left no suicide note. He had vast plans. He left a widow and two sons. He was a key player in the team of Andrei Sannikov, an oppositional candidate for presidency.