Natallya Radzina: We heard sounds of electroshock devices
26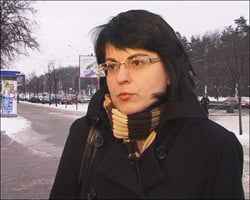 Through the cell walls and in the jail corridors the journalist heard how KGB prisoners are treated.
Editor of charter97.org Natallya Radzina, who has been living in Kobryn after the release on own recognizance, commented on Ales Mikhalevich's statement on tortures in the KGB jail. According to Natallya, female detainees didn't face such a treatment: no stretches, sudden searches, hand-cuffing, or standing naked in cold were applied to female prisoners. But Natallya Radzina believes, judging on what she heard through the cell walls and in jail corridors, that everything Ales Mikhalevich told about could have applied to men.
"As for me, I believe everything that Ales Mikhalevich tells the Prosecutor General in his statement. Women were treated more loyally in jail. But judging on the sounds I could hear through the walls, men faced cruel treatment. I heard commands "Hands behind back!", "Faster!", "Face down!" I heard the sound of batons and electrical buzzing noise, apparently produced by electroshock devices. I heard how they were made to run through corridors," Natallya Radzina said in an interview to Radio Svaboda.
"Those were scary sounds making all of us start. Guards were roaring at men ordering them to move faster, to run. There's very steep stairs in jail, I thought how these people, for example, Andrei Sannikov with his injured leg or Zmitser Bandarenka with his backache, could run up or down these stairs. It's impossible, it's a real torture. That's what we heard, but we did not see that," the journalist said.
As Natallya Radzina says, there were attempts to recruit her for the KGB.
"There were treats like 'Think well, you will never have children, think about your ill mother'. They threatened with 5-8 years in prison," the journalist told BelaPAN.
Radzina supposes she rescued herself by telling the investigator in the lawyer's presence that he would remain an independent journalist.
"I couldn't agree on any kind of collaboration. I told the investigator about that during an interrogation with the presence of a lawyer. I also asked why a journalist, who had performed his professional duties on December 19, heard threats of long prison terms before a trial and offers of recruitment. The investigator had to react to this. The pressure stopped after that," the journalist said.