Pickets for free public transport banned
12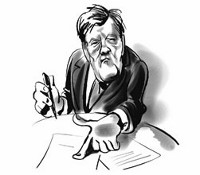 Mikalai Charnavus, a businessman from Baranavichy, received a letter from deputy head of the Baranavichy city executive committee Kastyukevich on October 3.
The letter says the city authorities do not permit holding a picket on October 7, 2012, on the ground of the Law on Mass Street Events No. 114-3 of 30.12.1997, Viasna human rights centre reports.
The city authorities think the applicant violated article 5 of the Law on Mass Street Events No. 114-3 (amended law No. 308-3 of 08.11.2011) and provision 4 of decision No. 1497 on the order of holding mass events in Baranavichy released by the Baranavichy district executive committee of 16.06.2009 (amended decision No. 2497 of 05.10.2009). The reply does not say what exactly was violated by the applicant, but offers to apply to the court of Brananavichy and Baranavichy district if the applicant doesn't agree with the decision.
"I planned to carry out a picket on October 7. I wanted to inform people about creating an initiative group in Baranavichy to collect signatures for free rides for schoolchildren if they use public transport to get to elective classes and hobby groups after school," Mikalai Charnavus says. "I think we'll find ways how to attract people to create this initiative group and collect enough signatures."