Matskevich Wants To Bring Police Officers To Justice For Bearing False Witness
8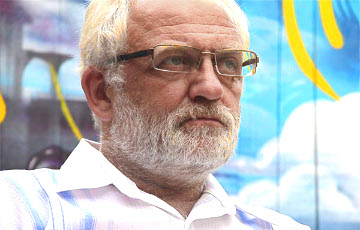 The philosopher applied to the prosecutor's office after the trial for the rally, which he had not attended.
Belarusian philosopher and social activist Uladzimir Matskevich filed an application to the prosecutor's office over the trial, which was held on March 15, tut.by reports.
Matskevich wants to bring to justice officers of the Ministry of Internal Affairs for giving false testimony against him.
"After the trial we wrote a note together with the lawyer, having seen after the case materials. We proposed to enregister the facts, which had not been included. In particular, we reminded to witnesses that they might have seen someone looking like me, and they stated in the court they were sure it had been me. Surprisingly, this remark was taken into account in the court," – the philosopher said.
As a result, Matskevich and his lawyer wrote an application to the prosecutor's office with the description of these circumstances, referring to the case materials, amendments to the protocol, and attached the audio recording of the trial.
"We asked the prosecutor to give us a legal assessment of the situation. Yesterday we sent the application by registered mail, now we have to wait. If the public prosecution office does not help, we might try the Investigative Committee," – Matskevich said.
Philosopher is set to push the matter through, but he realizes that the expectations are low. He is skeptical about the prospects of the administrative report, on which he has been tried.
"They say there is a common practice, when such dead frosts come up for renewal, it takes some time, after which the cases are closed. As if they didn't exist, they are hushed up," – the activist said.
Previously the website charter97.org reported that on March 15 Uladzimir Matskevich was tried in the court of Tsentralny district of Minsk for "participating in an unauthorized event" – that is the protest rally of sole traders on February 15. The policemen claimed in the court they had seen him with a placard "Job!".
However, it became clear during the trial that Matskevich had been in Warsaw that day, he demonstrated stamps in his passport, proving he had left and entered the country, and the plane tickets. The judge decided to send the administrative report against Matskevich for revision.