Ales Dzianisau: Stop Being I'm Alright Jack
19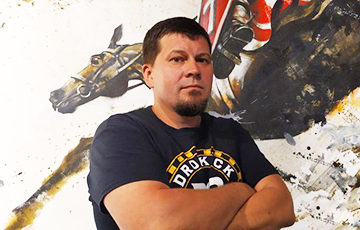 Only large-scale popular activity can change the situation in the country.
In July many Belarusian cultural figures announced the cultural protests campaign (Kultprotest). Actors, musicians, film directors, writers shot a video message demanding the release of Belarusian political prisoners.
The other day, as a part of the Kultprotest, Naka band, frontmen of DZIECIUKI, Петля пристрастия, Разбітае сэрца пацана and Rostany recorded a song to a poem by Uladzimir Nyaklyayew about riot policemen. The song is quite popular on the Internet.
Ales Dzianisau, the frontman of DZIECIUKI, told Charter97.org why he joined the Kultprotest and what is the main message of the song "To You".
- Anastasia Shpakouskaya, NAKA band, invited me to sing. That's how I joined the campaign. All my life I have demonstrated my civic position, my political views, so I decided to take part in the initiative.
The Kultprotest is important; it's the first time over these years when so many creative people, intellectuals speak out about unprecedented lawlessness in Belarus.
Frankly speaking, I am proud of people who speak honestly and boldly. Especially those who work in public structures related to culture. They risk their jobs, careers and money. There is one disappointing thing about it: the authorities can fire many talented people. Our culture will certainly not benefit from this...
- The song "To You" is addressed to the riot policemen. Do you think you managed to reach the conscience of all these people?
- Editor focused on these "thugs for hire" and minor law enforcers. The video misses those who give orders because they are even more responsible than those who beat up people on the streets.
I think the song "To You" can reach those who are still able to realize that they serve the people, not the dictatorship. There are people with conscience in the enforcement agencies. But I can't imagine what the majority has in their heads. Only orders, I guess.
It seems to me this song is not an appeal to the police. We should see that we have a conscience, we stand for the good. That's what Nyaklyayew's poem says. This is our strength/ This is what we should rely on. One can say that this is my free interpretation.
- Why are creative people so sick and tired of the current regime?
- I can't speak for everyone. Someone has little money, someone's conscience has awakened. There are many politicized people in society now. I feel Belarusians, including creative people, have started to speculate about the possibility to make a difference and change the power.
Perhaps, they have not thought about it before; they were not interested; they felt no personal discontent. Such things as the authorities' attitude towards people in the conditions of the coronavirus pandemic may have influenced them. The reasons may not even be so important from a political perspective.
- There are quite a few musicians who have performed on various public holidays who speak out in support of changes. Is it sincere?
- It depends on what you said and what you did. By the way, I didn't notice that many media representatives, musicians, artists closely tied to the state rushed to speak out. The top will be silent, while people at the lower positions have a conscience. I think some haven't spoken out yet. For example, someone from Belarus 5 TV channel who has been engaged in sports all his life and never got involved in politics. So far, they are silent because they are afraid of losing their jobs.
Let's see what's going to happen and how the Kultprotest will develop. It will also depend on the further actions of the authorities. If there are new mass arrests or Babaryka and Tsikhanouskaya are not registered - then it may incite another wave.
I hardly believe that anything will change in this election. It is important for people not to lose faith. We need a large-scale popular movement. It is the one that can make a difference. Let's hope that even more representatives of the creative intelligentsia will abandon their fear, open eyes to others. This movement needs them like air.
- Many young people come to your concerts, you understand them well. Why do young people take to the streets today?
- Today's youth reminds me of my generation with people of the underground movement, connected to music, politicized in a good sense, they cared about what was going on. Then the generation appeared that decided to went to build a better world in their "reservations" because they couldn't influence anything. Today, young people see that this self-isolation does not make things better.
I wish the new generation could see itself as part of society. Stop living like I'm alright Jack because this is stupid. You cannot hide from the events in the country. If things are getting worse, then why does this process bypass a "reservation"?
- Music played a great role in Perestroika and the fall of communist regimes in Europe. Will there be anything similar in our country?
- Of course, because music is the most popular art form, it can't be compared with painting or theatre. Music has more influence. Songs will change people, open their eyes, inspire them. Music makes young people think, critically look for answers, cause-and-effect relationships.
- How is it important for people of art today, leaders, to take responsibility for what is happening in the country?
- A sense of unity, honour, trust, ability to understand and forgive each other count. It is important for people of different political, religious views, social status to look for dialogue. After all, a broad popular activity can change the situation in our country.
Any patriotism and responsibility for the country start with such small connections. It starts with the feeling of fellowship, the desire to unite.