Karasin arrives to discuss common currency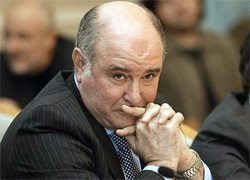 The issue of currency of the Common Economic Area was discussed at a meeting of State Secretary, Deputy Foreign Minister of Russia Grigory Karasin with Belarusian MFA representatives in Minsk on Monday.
"The financial aspect was among the topics: the future of the ruble and if the new currency is needed for the Eurasian Economic Union," Karasin told journalists, Interfax-Zapad news agency reports.
He emphasized the introduction of the common currency was an "uneasy question". He did not rule out the question could be settled in the Eurasian Union, the integration establishment which is expected to replace the Common Economic Area.
A former ambassador of Belarus to Russia, Vasily Dauhalyou, said "the philosophy of building the integration organization is based on moving towards the currency union". "Moving towards the currency union is inevitable," Dauhalyou stressed, but paid attention to "Greece's bitter experience".