What 'Surprises' The New Labour Code Brings
49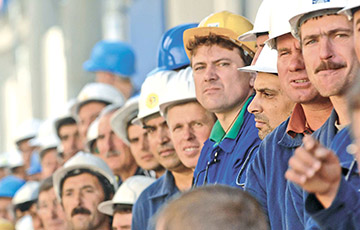 It was written based on Lukashenka's scandalous decrees.
Amendments to the Labour Code have been recently adopted in Belarus: both "houses" adopted them and Lukashenka received them for signature.
What will change in labour relations when the new code comes into force? Leanid Sudalenka, lawyer and legal inspector of the REP Trade Union in Homel region, answers questions of Charter97.org.
- When discussing the new Labour Code, the necessity to coordinate it with Decrees No. 29 and No. 5 of Lukashenka (on labour discipline and requirements to the management) were discussed. How do you assess these decrees and the fact that the adoption of amendments was based on their norms?
- Being a specialist in the field of labour law, I'd like to note that temporary "presidential" decrees should be adopted only within the framework and based on the norms of the Labour Code.
Unfortunately, our country practices the reverse scenario.
Hence, the situation when almost all economically active population of the country works in conditions of temporary employment under short-term employment contracts, and the directorate, frightened by the " increased requirements to management", bears responsibility even for the decisions it sometimes does not make.
It is enough to remember the fate of the young head of the Barysau woodworking plant, who suffered for decisions that he did not make.
- There was only one lawyer in the working group for the preparation of the new code. Most of "developers" are state officials without a legal education. How would you comment on that?
- I am not familiar with the staff of this working group and the level of its competence. That's why, no comments.
At the same time, I believe that any amendments to the basic labour law should be developed by labour specialists who have, first of all, both legal education and practical experience.
Legal and technical inspectors from various trade unions who have enough theoretical and practical skills in the field of labour relations could do this. If we are talking about "democratic principles of decision-making", why there haven't been invited representatives of independent trade unions? I am sure they could give a piece of advice.
- The new Labour Code afford employers much more grounds for dismissing employees. These norms are taken from Lukashenka's Decrees No. 29 and No. 5. How would you comment on the fact that directors of enterprises are offered extra opportunities to dismiss people?
- I'd like to say that the current version of the Labour Code under Decree No. 29 offers almost open-ended opportunities for managers and directors to fire any employee they do not like. As soon as the contract ends, they can fire an employee without any explanation.
I often had to and have to hear representatives of employers saying in courts that Lukashenka's decree gave them the right to dismiss people.
However, someone believed it's not enough!
For example, an amendment empowers employers to dismiss an employee voluntarily in connection with "gross, one-time violation of performance or labour discipline."
Let me remind you that the current Labour Code provisions provide for this only in case of regular violations. That is, a violation should reoccur within a year. But tomorrow a person will be dismissed for one-time "gross" violation!
I guess that it aims to make a working person stay silent and do not require better working conditions, higher wages, etc. If you start to seek the truth, you will find yourself on the street with your loans and the status of "able-bodied, unemployed in the economy."
I shall remind you that from October 1, according to Lukashenka's Decree No. 3, those who lost their jobs have to pay 5.5 times more for gas and heating, in addition to a hot water supply.
- The Labour Code secures the contract system created in Belarus under Lukashenka: there is a chapter of it. How do you see the fact that Belarus is the only country in Europe and the CIS with a short-term contract system?
- I see it negatively. I am ashamed that all the economically active population of my country works in a temporary employment environment.
It does not bring stability to labour relations. An employee is deprived of an opportunity to make long-term plans, including such vital issues as the construction of housing on credit, birth and education of children, participation in political and other life of the country, as well as improvement of his or her skills.
A hired person cannot look ahead with confidence and it affects results and efficiency of work. That's what the state "wise people" should think about and not about the short-term political benefits.
The whole world practices standard, permanent employment. Fixed-term employment contracts are an exception, to determine the bonuses, for example, to an athlete. Fixed-term contracts are used amid the inability to determine permanent employment.
No one will ever convince me of the validity of a fixed-term contract, e.g. with a cleaning woman. It is stipulated by the ILO conventions our country belongs to.
- What could you say about the real attitude towards employees in Belarus? Are their rights respected at least to the extent provided for by the code and laws? Which line do government agencies and official trade unions take when disputable cases?
- You make me give a specific example. Until 2006 I worked as a lawyer in the Homel department of Beltransgaz (now Gazprom). Then I agreed to work in the team of an alternative presidential candidate. My boss suddenly began to persuade me to quit my job. And when he heard my final "no", he waited for my employment contract to expire and dismissed me.
As a result, I and three minor sons found ourselves without a livelihood. When I was dismissed, my family also lost an apartment that the organization was building for its employees given a corporate soft loan.
As a lawyer, I was unable to defend my right to work even in the Supreme Court. They said: "You know, it's Lukashenka's decree."
What did the official trade union I was a member of do? Did it help? Their "help" was enough only to falsify the meeting of the trade union committee, which agreed upon my dismissal. This paper was issued only when the court requested it.
Since then, I have been working as a labour inspector in an independent trade union, and I can tell thousands of stories when people became victims of the contract employment system. I stress that all official trade unions take the side of employers.
I remember a story when women in an agricultural enterprise demanded early termination of employment contracts due to gross violations of working conditions by the employer. And what do you think? A "trade union" lawyer defended the employer in court...
And one last thing. Last month, all the world's trade unions put our country on the so-called blacklist. The International Confederation believes that Belarus does not ensure respect for the rights of workers, while the authorities keep repressing independent trade unions, pursuing and sentencing trade union leaders on trumped-up charges.