Almost Entire Armenian Population Left Nagorno-Karabakh
22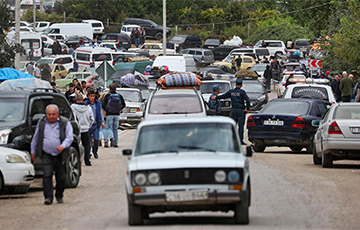 This is about 100,000 people.
About 100,000 people left the former self-proclaimed Nagorno-Karabakh on the territory of Azerbaijan for Armenia, press secretary of the Chairman of the Armenian Cabinet of Ministers Nazeli Baghdasaryan said. Her words are reported by News.am.
As of 20:00 on September 29, about 98,625 people reached Armenia. The official calls these people forcibly displaced.
According to her, 20,892 vehicles crossed the Hakari bridge in the Lachin corridor, connecting Armenia with the former Karabakh.
Reuters reported that 120,000 Armenians in Nagorno-Karabakh want to leave the region because they do not want to live in Azerbaijan and fear ethnic cleansing.
German media stated that 100-120 thousand people are the entire Armenian population of the former Karabakh, Deutsche Welle wrote.
On September 28, Azerbaijani authorities called on Armenian residents of Nagorno-Karabakh not to go but "become part of the Azerbaijani multinational society."