Charter97.org website editor summoned to Minsk KGB
36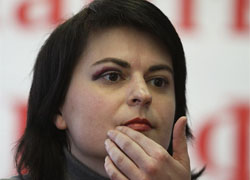 It is probable that the final accusation will be presented to Natallya Radzina and she would start to be familiarized with the case.
Today morning the editor-in-chief of charter97.org website Natallya Radzina received a phone call from the investigator. She was told that tomorrow morning she is to be in Minsk. A KGB officer has not specified what the journalist is summoned for, he just said that she is summoned "for measures of investigation to be carried out".
A lawyer of the journalist, Maryanna Syameshka, does not exclude that final accusation could be presented to Natallya Radzina, and she would be familiarized with the materials of the criminal case for taking the case to the court.
Up to now the journalist who has spent more than a month in the KGB remand prison, and now stays "in exile" in Kobryn, 300 kilometres from Minsk on recognizance, has been charged under two parts of Article 293 of the Criminal Code. She had not been presented the final accusation. However, on March 27 it was stated in a propaganda film on STV channel that "charges of organisnig mass riots in Minsk had been already filed against Natallya Radzina".
"It is obvious that the trials in the criminal case related to December 19 events, which had been blown way out of proportion by special services, are being hastened. The court conveyor line works quickly and like clockwork, as if on cue, sentencing oppositionists to enormous terms of imprisonment. The time has come for journalists as well obviously. Now they will start to punish us just for working on the Square and not keeping silent over these 17 years of dictatorship," Natallya Radzina said.